The holidays are coming fast!
I get e-mailed daily tasks to prepare myself for the holidays to help me avoid the holiday stress of being overwhelmed with so much to do.
One of my tasks? Getting prepared to send out holiday cards. I've already compiled my list of those I plan to send cards to and now I need to start looking into what type of card to send this year. In the past I've bought cards from the store, made homemade cards (great when you have LOTS of time on your hands and maybe even help from the kids), and even bought homemade cards from various charities. But this year, I plan to send out photo holiday cards to my friends and family.
Photo cards are great for showing how the family has changed in the past year. I personally enjoy looking at holiday pictures of families over the years and sadly have only done it one time (when my oldest was 1…WAY overdue since she's now 11 and Peanut and Little One have since been added to the family). I believe that these kind of cards are less likely to get chunked into the trash after the holidays are done. (You know you chunk the regular cards…I do it too…)
So why waste your money on cards that are no longer cared for after the decorations come down?
Shutterfly offers great holiday photo designs that you can create online with your photos. If you still want to send your own cards, then they also offer Christmas address labels to adorn your envelopes. And if you're looking for a great gift idea for the grandparents, I recommend wall calendars that you can create with Shutterfly. In fact I'm thinking about that for my parents and father in-law.
If you haven't already seen some ideas from Shutterfly, here's the one I plan to do for my cards this year. I'm opting for the 3 squares so each child has a spot. I don't know about you, but it's so hard to get ALL 3 looking great at the same time! There's ALWAYS someone looking off, looking goofy, or looking mad. ALWAYS!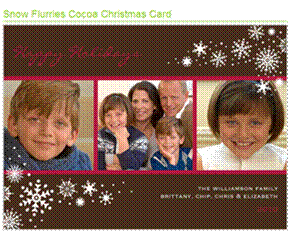 Have you thought about what you'll be doing for holiday cards this year?
I'm receiving free photo cards in exchange for promoting Shutterfly.